From www.craigmurray.org.uk:
The Pointless Keir Starmer 42
On Thursday, Labour under Keir Starmer got a lower percentage of the vote in Wakefield than they did in 2017 under Jeremy Corbyn. In 2017 Labour got 49.7%. On Thursday they got 47.9%. I want you to think that through.
Inflation is soaring. Consumer confidence in the economy has gone through a steeper plummet, and to a lower level, than at any time since it was measured. Worse than the 2008 banking collapse. Worse than the height of the covid panic.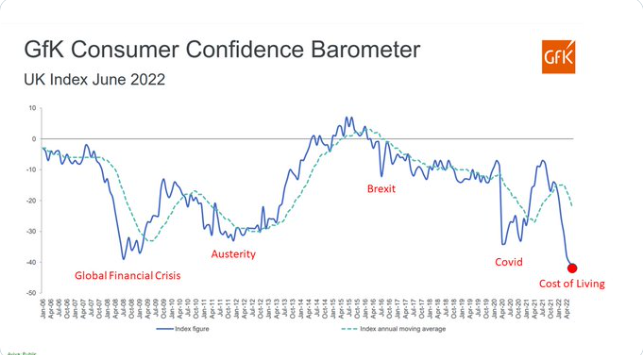 The Tory government of Boris Johnson is highly unpopular. The electorate has formed the view that Boris Johnson is an untrustworthy liar and plain chancer. 18th century levels of corruption have not just returned, but been plainly exposed.
There could not possibly be a more fertile ground for an opposition party in a mid-term by-election, when swings against the government are almost invariably much higher than at subsequent general elections. For Labour in these circumstances to still get a lower vote share in Wakefield than they did in the 2017 General Election which they narrowly lost, is a terrible performance.
The attempts to boost the hapless Starmer off the back of it are pathetic.
Starmer's role has been simply to emasculate the Labour Party, and to purge it of any elements that might seek to pose a threat to rampant neo-liberalism and wealth inequality. His efforts to ban Labour MPs from supporting striking railway workers must be anathema to anybody who has the slightest feel for the history and traditions of that party and indeed the most basic understanding of its very raison d'etre.
This Tony Benn quote from the 1980's has come into vogue because it is prophetic, and the process appears now complete:
If the Labour Party could be bullied or persuaded to denounce its Marxists, the media – having tasted blood – would demand next that it expelled all its Socialists and reunited the remaining Labour Party with the SDP to form a harmless alternative to the Conservatives, which could then be allowed to take office now and then when the Conservatives fell out of favour with the public. Thus British Capitalism, it is argued, will be made safe forever, and socialism would be squeezed off the National agenda. But if such a strategy were to succeed… it would in fact profoundly endanger British society. For it would open up the danger of a swing to the far-right, as we have seen in Europe over the last 50 years.
Starmer is in one sense the apotheosis of this process. Not only has he acted to purge the Labour Party of socialism, he also offers so very little of a meaningful alternative to the Tories that there is very little danger of the Tories being voted out of office. Not only is he a safe right-wing backstop, he is a self-redundant safe right-wing backstop.
Just as Jeremy Corbyn did before being felled by the entirely fake anti-Semitism crusade of the united state and corporate media, Mick Lynch has this week been showing how attractive the electorate find left-wing thinking, and the notion of greater wealth equality, if they could only get to hear it.
YouTube is full of clips of Mick Lynch besting the furious and unintelligent attacks of the media hacks. The moment I found most interesting was on Peston, where he was again being pushed to reveal himself as an evil Marxist who could thus be pigeonholed and ignored. Asked who his political hero was, he replied "James Connolly, the Irish Republican Socialist".
Regular readers know Connolly is one of my heroes too. What I found most striking is that the highly paid political journalists on Peston had never heard of Connolly. To paraphrase Noam Chomsky, I suppose if they had heard of Connolly, they would not be sitting where they are sitting. Knowledge of working class auto-didactic leadership is not a requirement to propagandise for the elite.
The knowledge that the British strapped a dying man to a chair so they could shoot him again might lead to all kinds of unauthorised thought.
Doubtless Starmer would ban his MPs from mentioning it, if he knew.
Here in his native Edinburgh, school children are not taught about Connolly either. My son Cameron was last year taught all about Burke and Hare in school in local history, a suitably grisly and cautionary tale of the Irish working class in Edinburgh. They were taken to Surgeon's Hall and shown the book bound in Burke's skin.
Five minutes walk further they could have been at Connolly's damp birthplace on the Cowgate, and learnt of his life and teachings. The curriculum does not do that.
Which brings me to Scotland. Everything I have said about the Tory crisis and Starmer's failure to inspire and seize the moment, is true in spades about Scotland. There simply could never be a more propitious time to strike for Independence. Pushed by their activists, the SNP at last claims to have "fired the starting gun" on an Independence referendum.
I see no political alternative but to take them at their word. I quite understand the suspicions of procedural trickery of my closest political friends, but my strong view is that we have to set aside doubt and make the campaign a real one, which acquires its own popular momentum and becomes unstoppable. When Wallace arrived at Stirling Bridge, the more established Scottish political leadership were not necessarily seeking a pitched battle. Let's get this fight started.
————————————————-


Forgive me for pointing out that my ability to provide this coverage is entirely dependent on your kind voluntary subscriptions which keep this blog going. This post is free for anybody to reproduce or republish, including in translation. You are still very welcome to read without subscribing.
Unlike our adversaries including the Integrity Initiative, the 77th Brigade, Bellingcat, the Atlantic Council and hundreds of other warmongering propaganda operations, this blog has no source of state, corporate or institutional finance whatsoever. It runs entirely on voluntary subscriptions from its readers – many of whom do not necessarily agree with the every article, but welcome the alternative voice, insider information and debate.
Subscriptions to keep this blog going are gratefully received.
Choose subscription amount from dropdown box: